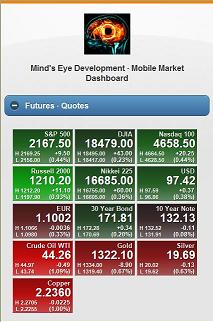 Mobile Market Dashboard:
Stock market dashboard for tablets and mobile devices.
During my time as an
active trader
I needed a simple and easy way to monitor the after-hours S&P 500 futures markets which are open 23.75 hours per day, and also on Sundays. When market conditions and volatility shifted dramatically it often became necessary to check the futures markets while away from a computer, at any time and any place. Thus the Mobile Market Dashboard was born.
This mobile app\website utilizes HTML, jQuery, jQMobile and price quotes\charts provided by
FinViz
.
Try it yourself
below
or open it in a
new window
.